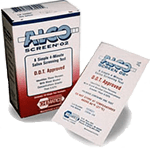 Quickly determine positive results with no guesswork. This alcohol test is easy to use and requires no training. Simply follow the instructions on the package to quickly test for alcohol use. Want to make sure you or your teen doesn't fall victim to spiked drinks at parties? Alco-Screen can be used to determine the presence of alcohol in fluids such as soft drinks, punch and juices. Quantitative blood/alcohol testing should be preformed by a qualified professional.
—> CLICK HERE TO LEARN MORE <—
The Alco-Screen alcohol test provides a fast, highly efficient way to determine the presence of alcohol in Saliva and provides semi-quantitative blood alcohol concentration.
————–
Alcohol Test Strips